Real wedding and engagement features on popular wedding blogs and in magazines are powerful publicity tools for professionals in the events industry. Not only do they showcase the best work from your portfolio; they help build critical marketing relationships that equate to the one thing all wedding pros want most – more high quality leads.
There is nothing magic about getting your wedding published as real wedding or engagement features in magazines and blogs, but there is a fair amount of preparation and elbow grease required to include them in a sound marketing strategy. Lucky for you, we've assembled some of the industry's best insider information to help you learn how to get your wedding published.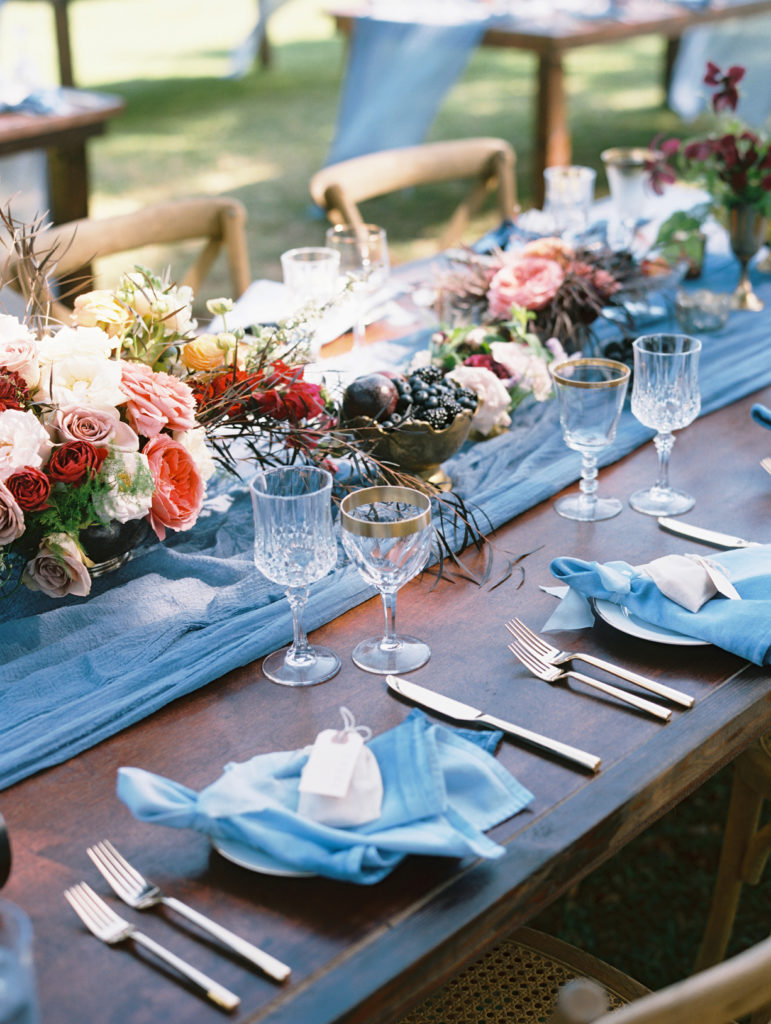 Why Real Wedding Submissions?
Real wedding features make practically everybody happy – colleagues, past clients, prospective couples, and even the media. Fellow vendors, for example, are grateful for the exposure their businesses receive through the links embedded in vendor lists when a feature is published. They are more likely to want to work with you again in the future if they perceive that you will promote their business through real wedding features.
Word of mouth
Satisfied past clients are made even happier by the thought that their treasured moments are worthy of attention and praise. They take pride in their celebrations and share features with all of their friends and families. In the case of pieces published on websites and blogs, the links back to your own website through photo credits or vendor lists are great for your own SEO. Some editors will even notify couples directly when features go live to encourage such sharing. Prospective couples are constantly searching the web for inspiration and new ideas, and they are most fond of real wedding features. Publishing yours is one of the most effective forms of word-of-mouth marketing possible.
Great marketing for new wedding businesses
Another benefit to real wedding features is their ability to act as the great equalizers your new, emerging, or transitioning wedding business needs. Editors want great photographs, compelling stories, subject matter that appeals to their niche or core audience, and the best examples of the kind of weddings they cover. You don't have to be the biggest, the wealthiest, or the longest-established business to meet their requirements. All quality vendors can, and should, participate.
Accessible and Economical Publicity
Real wedding features are truly an economical form of advertising, at least in that you do not have to write a big annual check then spend months with fingers crossed hoping for return on your investment (ROI). Your stories reach prospective clients relevant to your market, while those outside of your region can boost your online presence by "pinning" and sharing your posts, commenting on your stories and emulating your style.
No doubt, preparing wedding magazine submissions and wedding blog submissions is an investment in time. However, real wedding features rank well in the hierarchy of highly effective marketing strategies. If you follow best practices your risk is very low and your ROI is almost guaranteed.
How Do You Decide Where to Submit Your Weddings?
Make a wish list
Consider the types of media you frequent. Do some sites or magazines cover subjects that match your best work? Which ones reflect the kind of work you hope to do in the future? You will attract the kinds of weddings you publish, so be intentional when you choose a publisher to solicit.
Consider what you like
Tell the story readers want to read in both words and pictures. Include more than just a formal portrait of the jubilant newlyweds. Submit the entire story in images. Choose a set of photos that can act as a narrative, walking readers through all of the most important aspects of the day.
Explore your local media
National markets can be hard to crack, but local journalists often seek hometown talent to fill space on blogs and in magazines. Familiarize yourself with the options and offer to help whenever needed.
What Do You Need to Create a Stellar Real Wedding Submission?
Read the Rules.
The first, and most important rule for submitting your weddings is to obtain the publisher's submission requirements, usually available online. The real wedding kiss of death is to fail to read submission specs and waste the publisher's time. You definitely will not be invited back. These requirements generally include photo size and resolution requirements, word count restrictions, exclusivity rules, details about the target niche or audience, and other suggestions for successful submission. Reviewing this information is critical – not optional.
Compile the necessary information.
Most wedding submissions will require your couple's full names, and possibly their contact information. You should submit a complete vendor list with business names and URLs, but should also maintain a file with each vendor's contact name, phone number, email address and social media identities (including an Instagram handle!). You may be asked for follow up information or, someone who reads your feature may ask for additional contact avenues and referrals. You will also need to provide their story. How did they meet? What was their proposal and engagement like? What important details do they recall from the planning period, and what were their impressions from the wedding day? Focus on the most captivating aspects of the story to create competitive submissions.
Create a system for gathering and storing needed information.
Some of these details can be difficult to obtain after the wedding, so make a regular practice of sending a questionnaire to all of your couples with questions about their love story. Include a request for the complete vendor list at this time and record it in your data management system. Note, some couples are willing to share their photos but do not have time or the inclination to share their stories. You can still offer publishers a perspective by giving your professional insight on the planning and execution of the wedding events.
Provide a variety of high quality images.
Most publishers are seeking a selection of photographs from the entire event, including getting ready photos, first looks, the ceremony, reception and departure photos.
Observe the payoff.
When you manage your wedding submissions well, not only do you have a greater chance of acceptance currently, but publishers are far more likely to approach you for future pieces, and to refer you to their colleagues when they are looking for professional, cooperative wedding experts to tap.
Other Best Practices for Submitting Weddings for Publication
There are even more steps you can take to shore up your real high quality real wedding submissions:
Submit to niche markets carefully
Niche markets are sometimes controversial and not all couples want to be the poster children for their personal causes. With all real wedding and engagement features, be up front with your clients and obtain permission to submit their stories. You don't want to put a ton of work into a feature then have to pull it because you were not on the same page with your couples.
Go where the editors go
Sign up for Two Bright Lights to help manage your submissions and submit them to a large number of influential publishers at once.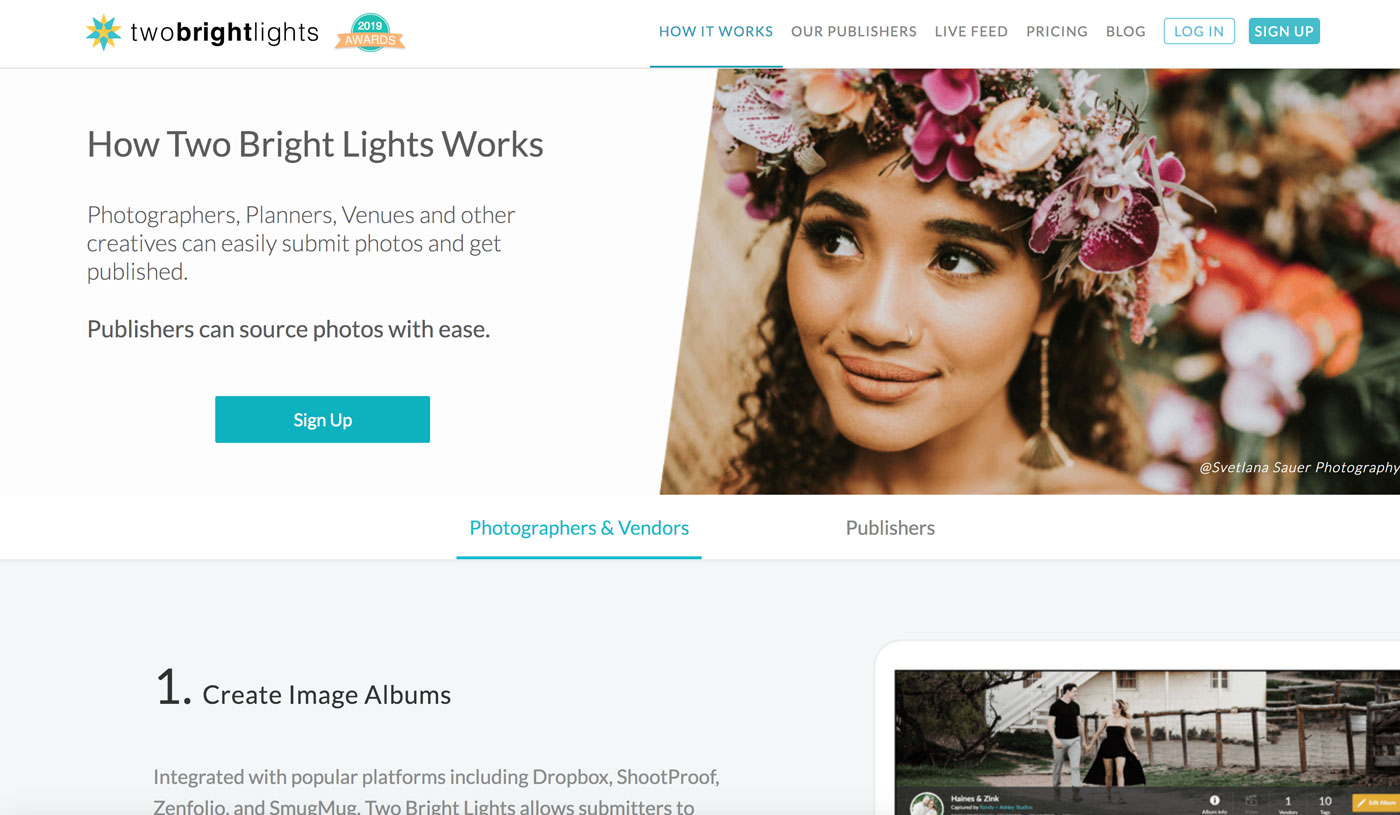 Consider offering exclusivity
Some markets are saturated and competition for real wedding space can be fierce. One advantage you can give your weddings is exclusivity – promising the editor of a particular site that the wedding will only be published on his or her platform. You have to be extra careful when offering exclusivity, and should submit the wedding to just one publisher at a time until it is picked up.
If you are the photographer and your wedding is particularly stunning and you want to avoid all possibilities of jeopardizing exclusivity, hold off on sharing it, even on your own website and blog. While generally doing so is not a violation of exclusivity, in very special circumstances it could be, so err on the side of caution.
If you were a member of the wedding team, it is best to check with the photographer before unveiling the wedding to the world. You too will benefit from major outlet exposure if the wedding is selected, so help out the team and hold tight until you know all of the rules.
Be diligent with your vendor lists
There are plenty of real-life stories of slight and bad blood when an exciting feature went live but participating vendor names were omitted. Maybe it doesn't impact you today, but you might have benefitted from referrals from the very people you intentionally or unintentionally slighted. Far better to be magnanimous and include everyone.
Also, do check your live real wedding features for accuracy and courteously inquire if someone was listed inaccurately (and the omitted category wasn't declared such in the publisher's specifications for real wedding articles). You would want your colleagues to do the same.
Practice courteous collaboration
If you are not the photographer, refine your approach to asking for images to ensure the best outcome.
Approach in advance with your thoughts on publishing and possible outlets.
Give reasonable turnaround times that respect the enormity of the post-wedding photo production process and impact of deadlines.
Establish an easy way to receive photos – a Dropbox account with a professional data limit is inexpensive and extremely easy to set up and use.
Take responsibility for collecting all of the necessary submission information and keep other vendors in the loop when editors contact you to pursue the wedding.
Always properly credit the photographer and never neglect to say thank you.
Be a photographer's dream and you will increase the likelihood that this won't be the only lucrative real wedding feature you pursue together.
Plan for submissions in advance
Prevent negative feedback from your couples and colleagues by doing your due diligence in advance. Ensure that your own contract includes permission to publish photos for marketing purposes clause, even if your photographer already has secured the rights. You want your couples to explicitly know about your desire to show off their awesome wedding day. During your contract signing, point this out, especially if your clients are particularly high profile or sensitive to public exposure. If they don't want to be featured, it's way better to know in advance.
Do not offer any kind of guarantee that a wedding will be featured. Better to reveal the good news than to explain the bad. Strongly consider not publishing any wedding associated with a couple with whom you had difficulty working, or whose wedding you are royally glad has come and gone. Publishing a real wedding feature may well extend your working relationship and is probably not worth the agony.
Finally, promote your successful real wedding and engagement submissions
Post a link on your own website and a thank you on your blog to bring the link to the attention of your audience. Announce it in your social media. Email both your newlyweds and your vendor colleagues to tell them the piece is live and ready to be shared. Start a Pinterest board of your work and pin the link there.
At first glance, getting your own real weddings published may seem like an overwhelming process, but with preparation, patience and priorities you can leverage your best work as one of your strongest marketing tools and generate new relationships as well as lucrative new leads.
Need step-by-step resources on real wedding submissions, or want a wedding PR expert to handle it for you?  Join the OFD Collective.