Two Bright Lights: 10 Insider Tips for Getting Published Using TBL
Two Bright Lights is an invaluable tool for real wedding submissions. It simplifies the process by providing event professionals with an easy-to-use platform for photographers and creative partners to share their work with media outlets. When done well, it's a great partner for seamlessly sharing your work with blogs and publications across the globe.
In recent years, TBL has grown exponentially and I've noticed that many wedding pros are not taking full advantage of the useful features it has to offer. Having signed up in the first year it launched, I've been a dedicated long-time user and have found value in all of the tools they've rolled out since the beginning.
Along the way, I've learned a thing or two about the platform and its perks. With that, I'm delighted to share my top ten tips to make the most of your TBL subscription.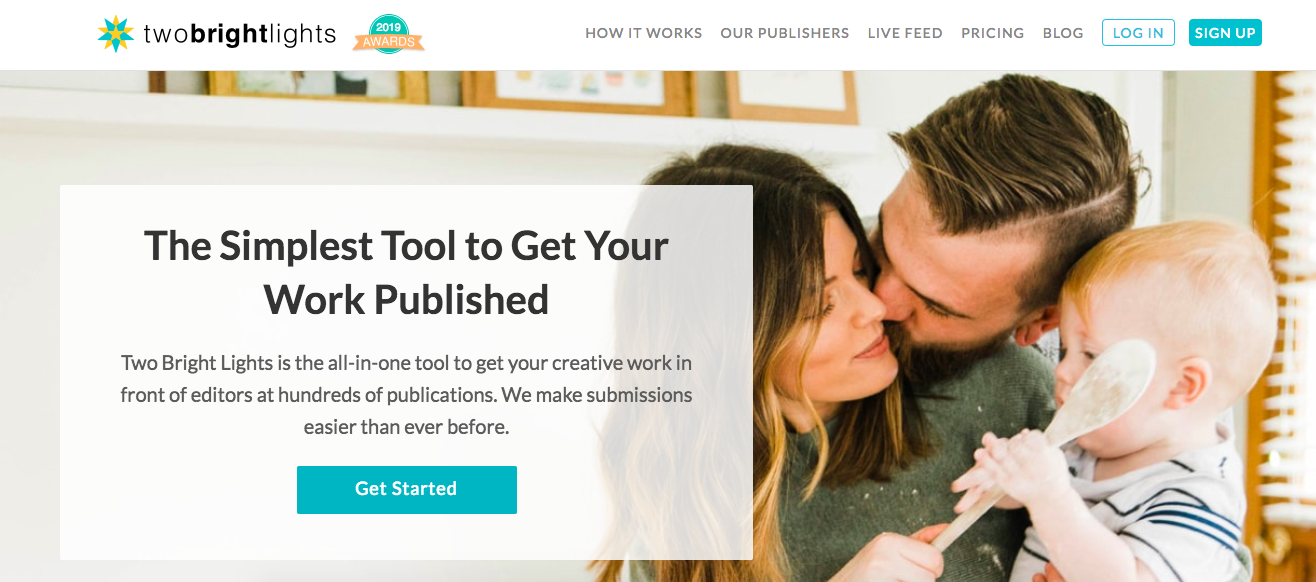 1. Know your way around.
As with any digital platform, you'll only get the most bang for your buck if you know how to use Two Bright Lights fully and effectively. Fortunately, TBL is great about providing tutorials and how-to videos on their YouTube page. Don't leave anything to chance — bookmark their tutorials and refer back to them as needed.
2. Tell a story.
A wedding submission isn't just about the pictures; you need to tell the couple's story as well. Send a questionnaire to your clients and ask them about how they met or got engaged, their inspiration while planning, favorite wedding day moments, and what they wish they knew in the beginning. Their responses will help you craft an easy writeup to include with your photos that will elevate your submission to the top of the pile.
3. Take advantage of TBL's resources.
As I mentioned before, Two Bright Lights provides an abundance of resources for event pros to navigate their site. However, they also have monthly webinars that bring together industry experts to shed light on smart wedding business practices. While they don't all directly relate to using TBL (although, my Two Bright Lights presentation does!), it's a valuable and free perk that you don't want to miss.
4. Review the editorial requests regularly.
Ultimately, you want to match each wedding with the right publication based on the very best fit in terms of aesthetics, details, photo editing, and readership. Be sure to check out the editorial requests in TBL to see if there are any fits. There are no guarantees that you'll be picked up, but it certainly increases your chances if you're submitting something that is specifically requested.
5. Check out the editor's community profile.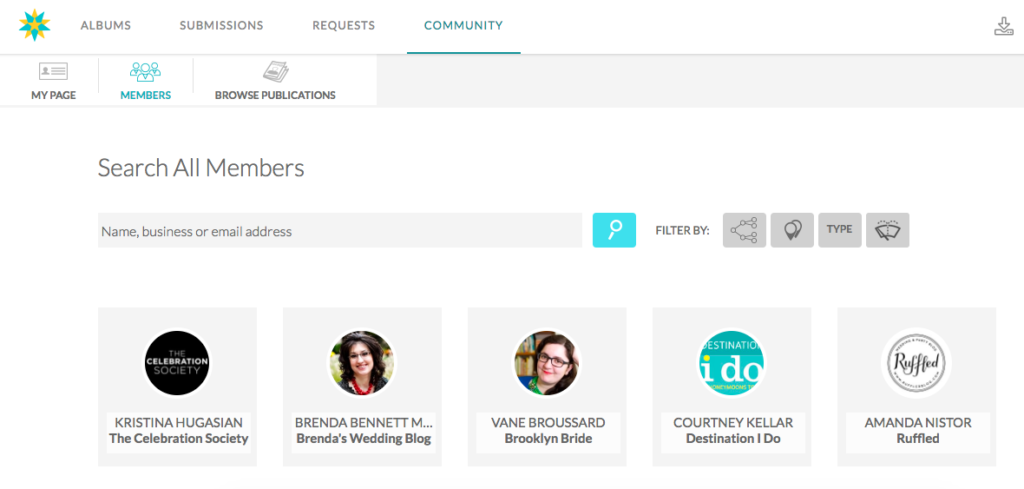 In the Community tab, you'll see the list of blogs and publications that accept submissions through Two Bright Lights. This page is a treasure trove, as it shares exactly what each media outlet is looking for along with an average response time. Use these guidelines to curate your submissions and ensure that your details, story, and photos match up well with what the editors are requesting.
6. Submit to the Two Bright Lights blog.
Not only does TBL provide a submission platform for many publications, but it also accept albums to feature on its own blog. According to MOZ, the site has a Domain Authority of 45 so it's certainly worth considering for SEO benefits.
7. Be open to non-exclusive outlets.
While your first notion may be to focus on exclusive blogs and publications, there is a wealth of non-exclusive blogs available on TBL that are eager to feature your celebration. When you are selecting where to submit, you can set the filter for non-exclusive outlets and submit up to five spots at a time.
8. Check out the live feed.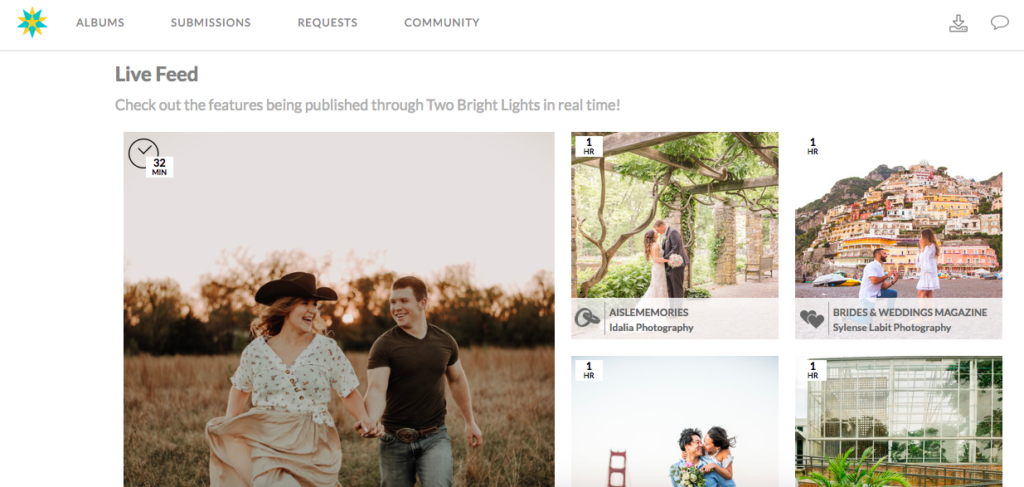 TBL's live feed shows features as they are picked up in real time. When it comes to real wedding submissions, unresponsive editors are one of the most common frustrations. The live feed will give you a better idea of who is actively reviewing submissions on Two Bright Lights. Of course, you still want to match up your event with the right editorial fit — but, if it comes down to two editors and one is showing up on the live feed regularly, I'd consider sending it there first.
9. Embrace the Open Gallery.
Let the editors come to you. Two Bright Lights recently introduced their new Open Gallery, which allows wedding professionals to upload photos into a searchable library for editors. There's no need to do a thing after uploading, so all you need to do is a grab a recent client wedding (with appropriate permission) and upload it for the taking. The whole process can take under five minutes.
10. Follow up as needed.
If you feel like you're being ghosted, do your due diligence and track the time it takes to receive a response. As mentioned in #5, you can check the publication's community profile to see how long it typically takes to hear back. If it has been longer, go ahead and reach out to the editor directly. Don't be afraid to reach out via email if needed. There's a good chance they only needed a few more days or maybe just a nudge, but if they continue to be unresponsive, feel free to withdraw and resubmit your event elsewhere with confidence.
If you've already been using Two Bright Lights for submissions, take some time to explore the features I've presented above and see how they can make a difference in your PR outreach. If you're new to the game, you can try out TBL for free with a limited subscription to get a feel — you'll only have access to limited publishers, but you can always upgrade if you find value in the platform.
[ssba-buttons]