17 Best Wedding Blogs for Submissions
Real wedding submissions are an excellent way to showcase your work, reach your target audience, and support your fellow creative partners. However, the process to submit weddings isn't always as straightforward as it seems. Every blog has its own set of parameters to follow, as well as specific styles or details that an editor is seeking at any given moment.
Once you determine the best outlet for a wedding, you need to be well aware of everything required for a submission. For example, some blogs will only accept submissions through a third-party site, like Two Bright Lights and Matchology. Others require wedding pros to submit directly through their site. Be sure to do your due diligence to ensure you're following all of the rules to a T.
Another thing worth noting is exclusivity. Many blogs are fully exclusive, meaning they will not accept a wedding that has been featured elsewhere; typically, they also require you to withhold future submissions to other sites for a certain period of time. Some publications prefer exclusivity, but will accept some previously featured weddings if it's the right fit. Then, there are non-exclusive outlets that accept weddings regardless of whether it's been published before. For our purposes, we've noted exclusivity for each of the blogs below.
Without further ado, here are 17 of our favorite blogs to consider for your next wedding.
PartySlate
Exclusivity: No
PartySlate isn't wedding-specific, so this is a great place to send corporate events, birthdays, and other social celebrations as well. One of my favorite things about PartySlate is how easy it is to submit, making it perfect for those new to submissions. They'll also pull images for their own roundups that are sent out to their email list, so your one submission can live on in additional features.
Tidewater and Tulle
Exclusivity: Yes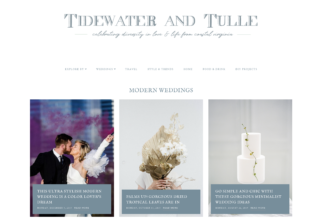 Since its launch in 2013, Tidewater and Tulle has grown into a strong local blog that consistently gives love to Virginia weddings. From Virginia Beach to Williamsburg to Richmond, Tidewater and Tulle showcases celebrations that embrace diversity and acceptance. Bonus points for those with fur babies and DIY details. Tidewater and Tulle also releases a magazine annually, so this could be a great print outlet for stunning Virginia weddings.
Maharani Weddings
Exclusivity: Not specified
As one of the premier resources for South Asian weddings, Maharani Weddings should be at the top of your list for any Indian wedding. Its annual Best Of magazine compiles all of the top weddings featured on the blog each year, so your most stunning and detailed celebrations could also earn a spot in the Maharani print publication.
Elizabeth Anne Designs
Exclusivity: Yes
Amidst all of the trends that come and go, the classic aesthetic will never go out of style and there will always be a demand for traditional and timeless design. If this is your area of expertise, look no further than Elizabeth Anne Designs for all things elegant and refined.
Love Inc.
Exclusivity: Yes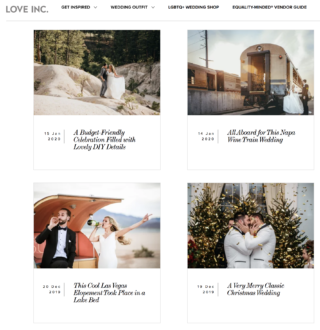 Equality, inclusivity, and diversity — Love Inc. is the leading source for multicultural and LGBTQ+ weddings that showcase unique details and meaningful stories. Great for same-sex and hetero couples alike, Love Inc. only accepts submissions from equality-minded professionals that are open to working with all couples. The most notable photos can make it into the bi-annual print publications, so consider that as you curate your submission.
Marry Me Tampa Bay
Exclusivity: No
For wedding pros in Tampa Bay, Lakeland, and Sarasota areas, Marry Me Tampa Bay is always on the hunt for local inspiration in the way of real weddings and advice from regional experts. Submissions should be detail-heavy and showcase the beauty of Florida's west coast.
Green Wedding Shoes
Exclusivity: Yes
This is the destination for all things extraordinary, with a special emphasis on handmade details, whimsical accents, and exotic locations. Green Wedding Shoes focuses on artistry in photography and design, so be sure to review their recent features to ensure your submission fits in with their aesthetic. 
Glamour & Grace
Exclusivity: Yes
Heirloom wedding lovers are at home on Glamour & Grace, so it's a great place to submit a wedding filled with vintage details and heirloom treasures. A bride wearing her mother's wedding dress? Handmade centerpieces with a story? Glamour & Grace is your place to go.
7×7 Weddings
Exclusivity: Not specified
For those local to San Francisco, 7×7 Weddings is an excellent choice for wedding submissions. You'll be front and center to Bay Area couples planning their wedding, as well as other vendors and venues in your market — great for getting your name out in your region!
Inside Weddings
Exclusivity: Yes
A short peek at Inside Weddings reveals its commitment to luxury weddings, so it's the perfect destination of all things stylish and sophisticated. Their site and their print magazine are editorial-heavy, so your upscale wedding may have a chance to earn a spot in both.
Love & Lavender
Exclusivity: Preferred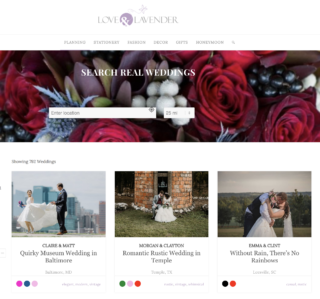 Run by a husband-and-wife team, Love & Lavender is always on the hunt for real wedding submissions. Their guidelines list what they're seeking at the time; at the time of this writing, they're after rustic, whimsical, vineyard, outdoor, beach, and destination weddings. In general, colorful celebrations with lots of pizazz tend to be a hit with this blog.
Ruffled
Exclusivity: Yes
Ruffled is your go-to destination for chic and vibrant celebrations with colorful details, down-to-earth couples, and stunning inspiration. This blog is inclined towards unique design with a taste for vintage and handmade accents, so it's a great choice for those one-of-a-kind weddings.
Engaged! Magazine
Exclusivity: Yes
Luxurious weddings in the greater Washington, D.C. area belong in Engaged! Magazine, which features sweet couple stories and breathtaking details from weddings around Virginia, Maryland, and D.C. In addition to vendor spotlights, the blog features real weddings regularly, as does the print magazine.
Bridal Musings
Exclusivity: Yes, but only digital (print features allowed)
Equal parts inspo and advice, Bridal Musings is a fun and sometimes-cheeky outlet for newly engaged couples planning their weddings. The blog features weddings of all different styles from all around the world, so there are no limits as long as your weddings are beautiful, stylish, and romantic (which they surely are).
B.LOVED
Exclusivity: Yes
While B.LOVED isn't strictly about weddings (it features lifestyle and parenthood posts as well), it certainly showcases plenty of stunning nuptials on their site. Pairing elegance with modernism, it publishes celebrations near and far although it does predominately feature weddings from across Europe.
Bustld
Exclusivity: No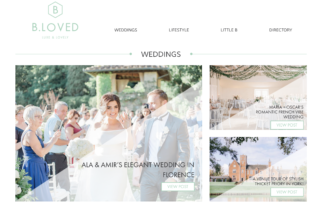 Bustld is clear about its aesthetic: "stylish, inclusive, fresh, clean, straight forward and creative." Beyond that, it's open to all sorts of wedding submissions. The more variety, the better. Couples with unique personalities and backstories are especially appealing for Bustld, so keep that in mind as you consider your weddings.
Heather Renee Celebrations
Exclusivity: Preferred
Heather Renee Celebrations is the perfect destination for light and airy submissions, with soft hues like blush pinks and soft purples featured prominently. Romantic portraits and beautiful styling steal the show for both real weddings and styled shoots, featured from all around the world.
Each of these media outlets offer lots of exposure, but the key to a successful wedding submission is ensuring that your wedding is the right fit for a publication. Even the most gorgeous modern wedding won't be accepted by a rustic blog; always be sure to review a blog's recent features and their submission guidelines to increase your chances of being accepted.
[ssba-buttons]